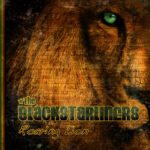 Sometimes the downloads don't work, we hope to fix it quickly, sorry
The Blackstarliners is a band created in year 2006 mainly by the producer Ayato who practises dub music since more of 10 years about. The sound of the band is fully influenced by the UK stepper. The members have also shared stage with some of their prestigious idols such as Zion Train, Disciples, Bush Chemists or others Improvisators Dub, Kanka during some live sessions. Just some references on the kind.
By listening Roaring Lion, we can feel this different experiences and meetings. Actually, the EP develops a very powerfull dub stepper worthy of this named artists or bands. A sound, that I can say, remind the stepper of another great dub producer : Weeding dub. To tell how the music proposed is effective and extremely powerfull.
And at the same time, very melodic with a nice female voice for a sweet flow. So, don't hesitate to go to download it. The quality is there in every levels.
To conclude, a little word in memory of Manutension who left us the last year. Actually, this release was mixed in his studio. I had also remixed Faya Dub. Version proposed as second track of the EP.