Sometimes the downloads don't work, we hope to fix it quickly, sorry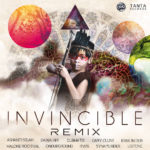 Ackboo c'est plus de 5 ans sur la route et près de 300 concerts entre Paris, Mexico ou Pékin. Du live Dub dans la lignée d'artistes comme Mad Professor et Kanka. Ackboo n'est pas un Dj, armé de sa console de mix analogique et de divers effets vintage, il mixe / « dubbe » en direct ses propres productions.
Après la sortie remarquée de son premier album, Turn Up The Amplifier, qui révéla au grand jour le talent de cet artiste déjà très présent dans l'underground, Ackboo revient en 2016 sur le devant de la scène.
Ce deuxième opus intitulé INVINCIBLE est sorti le 1er avril 2016 sur son propre label, Tanta Records. Il est encore une fois éclectique et coloré pour le plus grand plaisir de tous les fans de Reggae, mais aussi de Musiques Electroniques, de plus en plus nombreux à suivre Ackboo.
Les auditeurs ont le plaisir de voyager parmi 14 titres dont les musiques ont toutes été composées par Ackboo et habillées par 11 voix triées sur le volet : Horace Andy, Linval Thompson, Green Cross, Solo Banton, Marcus Gad, Maicee, S'Kaya, Malone Rootikal et Dan I Locks.
Un disque d'une grande richesse musicale, passant avec aisance du Reggae au Dub, ou encore de l'électro au Hip-Hop.
Avec INVINCIBLE, Ackboo confirme son talent de producteur avec une sélection de chanteurs (connus ou à découvrir) dont la voix et la personnalité correspondent parfaitement à l'esprit de la composition qui leur a été proposée. Ackboo s'est également impliqué jusque dans l'écriture des textes afin de garder tout l'impact et la cohérence que mérite son projet.
INVINCIBLE est un album pour le public, à écouter le matin pour se donner l'énergie d'affronter la journée, le soir pour se détendre ou réfléchir et le week-end pour se défouler !
Ils en parlent :
"Un projet totalement réussi" REGGAE VIBES MAGAZINE
"Tout ce que l'électro-dub fait de mieux" REGGAE.FR
"On jump, on s'envole, on rêve, on chante à en crier" LA GROSSE RADIO 
"Album de la semaine" MOUV'
« FFF » TÉLÉRAMA
"Son premier album avait fait sensation, le voici avec un second opus en forme de passeport pour la postérité" INTRAMUROS
English
Ackboo has toured all around the globe more than 5 years performing nearly 300 shows between Paris, Mexico or Beijing. A Live Dub mixing project that can be compared to projects like Mad Professor or Kanka.
His second album entitled INVINCIBLE, has been released on April 1st 2016 on Ackboo's label, Tanta Records. An eclectic and colored effort for the pleasure of all Reggae fans, but also electronic music addicts. Listeners will travel among 14 songs that were all composed and produced by Ackboo featuring 11 vocals specially picked: Horace Andy, Linval Thompson, Green Cross, Solo Banton, Marcus Gad, Maicee, S'Kaya, Malone Rootikal and Dan I Locks.This new album has a great musical wealth, easily passing from Reggae to Dub music, or from electronic to Hip-Hop music. Versatile!