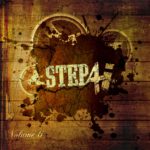 Again the net label Original Dub Gathering this time for a compilation on the famous collection it proposes: Step4i. The sixth volume, available in free download as others, proposes 26 tracks and same much of participants.
Hard to tell about all. That we can say, we can find some artists from ODG or other net labels such as artists signed on most "traditional" labels. By this fact, we can find on this volume The Blackstarliners, Jah Billah, Dub Engine sharing the opus with Weeding Dub, Kanka or Brain Damage.
A match copyleft versus copyright? Not. Just a meeting of dubbers to promote their music and the richness of this one: to show the different styles of this kind which is dub music. Actually, the compilation presents as well roots, stepper, electro-novo-dub, dubstep and other experimentations inna dubwise style.