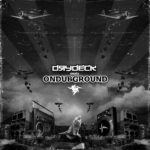 Sometimes the downloads don't work, we hope to fix it quickly, sorry
Training native to Drôme, Drydeck evaporates since 2005 instrumental and electronic Dub coloured with ethnic samples and kinematics. After the exit of their 1st autoproduced called opus "Dub Chamber" in 2007, the crew brought its stone in the (3rd) building Step4i with title My soul is in trouble. Throughout the productions of the group you will discover to them numerous going influence biensur of the French dub " Hightonien " in the dub UK and Jamaican to Hiphop and to the world of electronic music. It is this intense marriage that Drydeck defends, from the first listening it is a complete immersion in their world at the same time dark and mélancholique where every piece is tinted with the same feeling that evolves in queue of reverbs and delays.
After a long absence on the cloth, Ondubground combines in Drydeck to melt in the same opus to them two interpretations of common Dub. Maxi at the crossroads of Steppa, of Etnho-Dub and of Dubstep, trimmed with samples drawn of film, in oriental voices and instruments of the world.