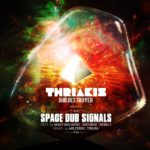 Sometimes the downloads don't work, we hope to fix it quickly, sorry
[wp_cart_button name="Space Dub Signals (CD Album, 10 trck, WAV)" price="5″ shipping="0.001″]
Founded in 2006, Thriakis Dub Destroyer is a "one-man-dub" from Paris, France.
In a neo-futuristic mood, he uses his Dirty Electro experience and a rich musical knowledge to produce a dub that goes farther than tags, respecting the dub construction, but adding new ways of experiment. Sometimes digital, sometimes roots, clearly electro , reggae, dub, skanks, with slices of dubstep or hiphop beats, the generosity of Thriakis's music equals its infinite space galaxy of eternal matter.