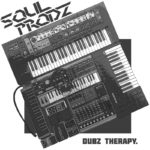 Sometimes the downloads don't work, we hope to fix it quickly, sorry
Avec ses 8 tracks "Dubz Therapy" vous propulse dans un voyage introspectif. Déroutant, dansant et puissant, le nouvel album de l'artiste dijonnais Soulprodz est avant tout une production 100% electro-dub. Entre rythmique stepper et groove dubstep, l'album vous donnera envie bouger votre corps dans tous les sens.
À écouter sans ordonnance !