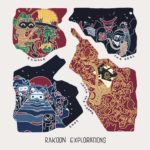 Sometimes the downloads don't work, we hope to fix it quickly, sorry
Après avoir sorti l'excellent album "Our Smiles en décembre 2016 Rakoon est déjà de retour avec un nouvel opus !
Avec "Explorations" et ses 4 titres l'artiste continue de nous régaler avec son style si propre à lui. Une belle surprise avant d'entamer l'été !
Credits:
All tracks composed, mixed and produced by Rakoon
Except track 4, co produced by LiinK
All guitars by Rakoon
Track 2: Vocals by Ob.DUB, Harmonica by Low Filter, Piano by Bisou
Mastered by Storm Mastering
Artwork: Thomas Marchais