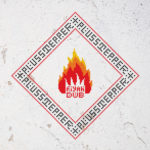 Sometimes the downloads don't work, we hope to fix it quickly, sorry
The most famous ukrainian dubmaker PlusStepper is back with a new album call "Fiyah Dub". A real crossover opus between dub stepper & balkan music.
Le prolifique producteur ukrainien PlusStepper sort son 5ème album sur odgprod ! Composé de 9 titres "Fiyah Dub" est une ode au dub stepper aquatique parsemée de thèmes de cuivres conquérants et de sonorités balkaniques. Certainement le meilleur opus de sa large discographie !