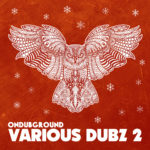 Sometimes the downloads don't work, we hope to fix it quickly, sorry
Tous les derniers morceaux remixés par Ondubground sont désormais réunis au sein d'un album : Various Dubz 2.
Découvrez ou redécouvrez des tracks inédits de chanteurs et producteurs talentueux revisités par l'équipe ODG.
Cet opus éclectique ravira tous les amateurs de dub !