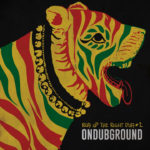 Sometimes the downloads don't work, we hope to fix it quickly, sorry
"Cinq ans après le premier volet de « Rub up the right Dub », les voici de retour avec ce second opus, s'attaquant de nouveau aux fondations et aux racines du Dub que nous affectionnons tant. Ainsi, « Rub up the right Dub #2″ nous propose 7 remixes de hits Reggae, Rocksteady et Rub-a-Dub.
Pour débuter, ODG a choisit de remixer une big tune du chanteur Ini Kamoze, pas la plus connue (difficile de faire mieux que 'Here Comes The Hotstepper') mais peut-être la plus efficace : 'Wings With Me'. Une belle entrée en matière, quand arrive derrière la reprise de l'un des chef d'oeuvre de Peter Broggs, 'Never Foget Jah' qui ouvrait d'ailleurs le show live d'ODG ces derniers temps. Boom Tune !
Après le fameux 'Young Lover' de Cocoa Tea sublimé par le mélodica d'Art-X, place au duo de deejays Biga*Ranx & Joseph Cotton, reprenant dans un premier temps le très dansant 'After Chrismas' de l'organiste Jackie Mittoo. Notre second gros coup de cœur c'est le titre suivant, 'Black Woman' de la magnifique Judith Mowatt revisité à nouveau avec les toasts des deux compères !
Autre titre bien connu des aficionados d'Ondubground, la combinaison entre I-Roy et Michael Rose à la sauce UK Stepper. Enfin, pari réussit également avec le remix d'Alton Ellis et son big 'It's a Shame' que Biga et Green Cross envoutent et font groover !" par Culture Dub