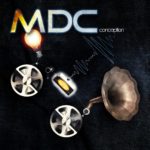 Sometimes the downloads don't work, we hope to fix it quickly, sorry
ODGprod
is pleased today to welcome a new band on the netlabel. After discovering the Dub "made in Berry" thanks to artists such as 
Dawa Hifi
or 
U.Stone
, it is time to makeway for MDC who gives us his first Ep called "Conception".
Massive Dub Corporation
consists of four multi-instrumentalists activists with one common idea, exploring dub and its borders (if there are any). This young band born in Bourges in early 2010, the project starts both in studio and on stage, navigating between CAM and instrumental music. It is this balance that we feel immediately along the five tracks,  synthetic rhythm and acoustic phrasing are mixed perfectly. Each piece is discussed in a different way, and we will pass through various environments, from the "french dub"  to things more roots, or stepper oriented and dedicated to the soundsystems. MDC also offers two royal featurings for his first Ep, we can hear  the famous MC 
Brother Culture
(on Ninja Assassin) and the Parisian duo of singers 
Fu-Steps
(on Soldiers of Babylon). "Conception" celebrates a rich &  multi-faceted dub, which foreshadows MDC as a group to follow.