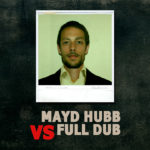 Review by Culture Dub
À ma gauche, Mayd Hubb, producteur d'une musique urbaine hors format et membre fondateur du groupeTelDem Com'unity, auteur de trois albums en solo dont le dernier, « Mellowmoon » en compagnie de Joe Pilgrim, a reçu un superbe accueil du public (lire la chronique).
À ma droite, Full Dub, véritable architecte musical, adepte du sampling et de la recherche de sons rares, auteur de plusieurs releases en libre téléchargement, et plus récemment d'un terrible vinyle avecBunnington Judah sur le label Dubatriation (lire la chronique).
Premier dubber à monter sur le ring, Mayd Hubb s'attaque au titre « Unknown » de son compatriote et lui donne un coup de boost, dans un style très « High Tonien » ! Que dire alors du remix de « Far Over » par Full Dub ? Le superbe titre de Mayd Hubb et Joe Pilgrim se voit alors remodelé façon stepper, et on comprend que les dijonnais ont décidé de nous livrer sur cet EP le côté sombre et bien ruff du dub…On poursuit avec un nouveau remix de Mayd Hubb, cette fois-ci sur le titre « Space Human » de Full Dub. Si l'original, extrait de l'album « Last Light », avait un côté dubstep indus, Mayd Hubb le bascule du côté roots avec un skank plus prononcé, même si la fin du morceau part véritablement en cacahuète, en quasi-trance… Belle évolution en moins de 5 minutes !Pour ses 2 derniers remixes, Full Dub nous fait voyager en allant piocher dans la discographie de son collègue, d'abord dans l'excellent « The Blue Train » avec le titre « Yell of Crack », puis dans « The Dub Paradox » pour « India Femina TerminaL ».Pour finir, Mayd Hubb revisite « Self Full Feeling Prophecy », en prenant Full Dub à son propre jeu, puisqu'il ajoute de nombreux samples au morceau, qui pourrait très bien figurer sur un album de TelDem Com'unity !
Dans ce match lourd en basses, pas de vainqueur, mais deux dubbers complémentaires qui ont pris plaisir à se remixer l'un et l'autre, c'est ce que l'on ressent tout au long de ces 6 tracks.