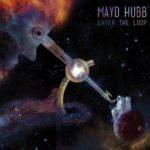 « L'artiste dijonnais Mayd Hubb qui fait partie de la scène dub/électro hexagonale nous propose d'entrer dans la boucle de sa musique avec « Enter the Loop ». Après déjà trois albums et un disque de remixes avec Full Dub, qu'en est-il de cette nouvelle production sortie ce 2 juin sur le netlabel label ODGPROD ?
Un adjectif pour qualifier cet album pourrait être « explosif ». Les explosions de samples, de basse, ou tout simplement des morceaux sont présentes partout comme « Quarks Explosion » (oui, là c'est facile). L'enchaînement des pistes « Riding with the Moon » / « Solar System » vous emmène de nappes de claviers, d'une batterie qui donne l'impression d'être devant un live de l'artiste vers un morceau dub aux sonorités orientales.
Dans cet album, Mayd Hubb livre également des morceaux poétiques comme le titre « Nocturnal Cell » qui est en est la parfaite illustration (écoutez ici). Ce dernier laisse imaginer des objets en suspension dont le mouvement est animé par une basse surpuissante et sans concession.
Au-delà de la grande qualité des pistes, l'atmosphère foisonnante pleine d'imagination voire de féerie qui en émane, fait aussi tout l'intérêt de cet album indispensable pour les amateurs de dub/électro. Avec cette nouvelle release, Mayd Hubb fait bien plus que confirmer son statut, il le renouvelle. » Par musicalechoes.fr