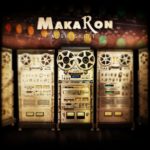 MakaRon is a musician, composer, sound producer & dubologist. Born in Poznan, Poland, in 1965, was a creative member of a legendary reggae band Gedeon Jerubbaal with whom he toured intensively between 1984 and 1988. Emigrated to Germany and settled in Montreal in 1990. Founding member of Dubmatique (1992), member of Smokey Joseph & Kish-I Band (1992-1996), Another Kultur Klash (1998-2001). Since 1997 operates his own studio where he records and mixes music.
The second solo album of this Poland-born veteran reggae artist, Dubology(2005) is a perfect blend of digital and analog music that smoothly combines dub, roots and ambiant into the unique MakaRon feel and aura. The record features some powerful guest performances: a DJ Spoko "Maka-in-a-jungle" mix, a blast song by the incomparable Bakshish's vocalist Jarex as well as a new track by MakaRon's own legendary group Gedeon Jerubbaal.
Roots of Dub Funk 5 (2006 Tanty Records) is another succsessful step in Maka music life.
Secret Selector Dub feat.Jarex opens this well known compilation gathering the best dub producers in the world such as Vibronics, Mad Professor and Alpha and Omega.
Today, MakaRon offers you a five tracks Ep ina pure dubwise style. Listen !