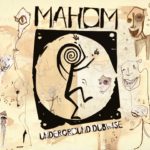 It is through this beautiful spring day that Original Dub Gathering is pleased to present Mahom. Like the previous album by Jangle Machine, this new duo began its first steps on Odgprod and he propose for free its first complete album.
Mahom comes from France in the Drôme (as Drydeck), navigates between electronic Dub and instrumental Dub. Mainly oriented Stepper, their sound is ranging from Uk Dub sound systems, to French Dub with additions of ethnic samples and Far East voices. On stage or in studio Mahom is powered by Mathias on one side to the semi-electronic drums and melodica and another by Joris controlling sampler and machines. Listening to 7 tracks from the album you will discover an atmosphere sometimes close to Panda Dub's compositions : style with a message both optimistic and mixed phases of melancholy. Underground Dubwise offers a real trip in which all borders are blurring.
Note the cheerful participation of Barbes.D on "Lhassa remix", Paulette Wright on "Retrouvailles", Ital Roots Players on "No War", Ranking Joseph on "Moonshine" and The Sysiphians on "Underground is the way".