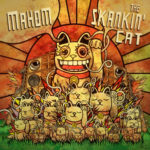 Sometimes the downloads don't work, we hope to fix it quickly, sorry
Fameux activiste de la scène dub depuis 2006,
MAHOM
est au carrefour de nombreuses influences (roots, musique du monde, électro…). La musique y est riche, engagée et militante, pleine de featurings avec divers artistes rencontrés au grès des concerts et des humeurs, engagée et militante. Chez
MAHOM
, les sons naviguent entre UK Dub
et dub français, et se teintent de toutes les ethnies du monde. Après
Underground Dubwise
et
Dub by Sub
,
MAHOM
vous présente son tout nouvel album « 
The Skankin' Cat ».
Avec ce troisième opus, le duo confirme son ascension dans le paysage dub français et s'installe parmi les
dub-producer
de références au sein de la nouvelle génération (Panda Dub, Ackboo, Mayd hubb…)
 The Skankin' Cat et ses 13 titres originaux, agrémentés de 3 remixs inédits, revisite le style de MAHOM : un dub stepper clair et limpide ou la basse et les effets prennent une place prépondérante. Un style qui plait à leur public et qui a déjà porté le groupe sur de nombreuses scènes et sound-system Français et Européen. On retrouve ainsi le son stepper massif dont MAHOM a le secret sur Bigvoods, Inna di Red, L'étrange Skank de Monsieur Jack ou encore Cerbère. Dans un esprit plus rêveur des morceaux comme Earth, soutenu par le melodica de Art-X (ODG), et Sous les étoiles emmèneront l'auditoire vers la méditation. Don't say you have never been told et Tricking Upon di Track reviennent aux sources du roots avec les voix rootikal de Jolly Joseph (La Granja Orchestra) et Simple Spelim (Païaka). Rough and Tough ainsi que le titre éponyme The Skankin' Cat complètent le tableau de l'album avant le clash de fin : Deep in Your qui vous laissera sur les rotules autant en sound system que dans votre salon.
Coté remix MAHOM s'entoure de leur frère d'arme PANDA DUB pour un remix de Tricking Upon di Track.GARY WIDE propose lui une version trap bass music de The Skankin' Cat, enfin FABASSTONE de DUB INVADERS remixe lui Big Voods.
Tracklist :
01. Don't say you have never been told feat. Jolly Joseph
02. Cerbere 2.0
03. Inna di red
04. Bigvoods
05. Earth feat. Art-X
06. L'étrange skank…
07. … de Monsieur Jack
08. Rough & tough
09. Tricking upon di track feat. Simple Spelim
10. Sous les étoiles feat. Flo
11. The skankin' cat
12. Deep in your
13. Bigvoods (Fabasstone/Dub Invaders Remix)
14. Trickin upon di track (Panda dub Remix)
15. The skankin' cat (Gary Wide remix)