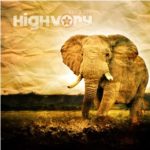 Sometimes the downloads don't work, we hope to fix it quickly, sorry
January is already gone and Original Dub Gathering is relatively late in early 2011. Yet it is associated with the sprawling King Dub Records that we now offer our first release of the year but also our first collaborative production. Sprawl because KDR is ubiquitous on the Web, both from his netlabel dedicated to Dub but also through its radio broadcasts on the Internet during which everyone can enjoy  Roots & Stepper quality selection.
Highvory is the result of this meeting. A compilation always dedicated to  Dub (for those arriving on the site for the first time) and more specifically Stepper, this style that has ravaged the  sound system nights for three decades. This thread is a rhythmic axis around which many variations of style. Sounds of "roots" to sample "ethno" each piece brings a story, an emotion of its own. Most of the artists come from France, but we are proud to celebrate the unexpected participation of Johnny Clarke on a riddim of Lord Hissayas without forgot LabFrequency from Italy and the brazilian Dubatack.