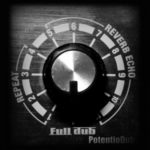 Monday, January 9, finally, the first release of 2012 ! For this new year Odgprod had to offer you a brand new artist for free download on the site. Full Dub delivers you « Potentiodub » , a five tracks Ep full of surprises …
Native from Dijon, the man known as  Full Dub creats music both instrumental and electronic  drawing his inspiration from the French dub of the late 90's. Musician through numerous formations, he is also a founder of the Gravity Association that works  on the underground scene.
Listening to five tracks of Potentiodub makes you discover an atmosphere richly eclectic, a well controlled Electro Dub style maried to vintage effects mixed  with classical and oriental samples. The whole Ep is enriched by a touch of dubstep, coloring the tracks with electric basslines and some aphrodisiac wobbles.
***First maxi by FULL DUB named « Conception » in free download on HiQDub