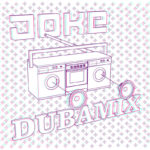 Dubamix & The Joke – Lavoblaster Remix (2018)
ODGP210
Après avoir partagé de nombreuses scènes, Dubamix et The Joke unissent leurs énergies sur un projet commun et insolite : « Lavoblaster Remix ». En 10 titres orientés vers la fête et la lutte, Dubamix revisite l'album de Joke enregistré à Ouagadougou, « Lavoblaster » (2014), où interviennent de nombreux musiciens et chanteurs burkinabés.
Entre la culture dub électronique et la recherche du sample juste à la Dubamix d'une part, et la force acoustique des titres de Joke appuyés par leurs nombreux invités d'autre part, de multiples sonorités se croisent et se rencontrent dans cet album radicalement dansant. 10 titres qui dénoncent le monde tel qu'il va et revendiquent des alternatives sociales.
10 titres qui ouvrent un dancefloor où la lutte sociale est une fête revigorante. En unissant leurs forces sur le Lavoblaster Remix, Dubamix et The Joke réactivent un adage essentiel : « Si ta révolution ne danse pas, ne m'invite pas à ta révolution. »