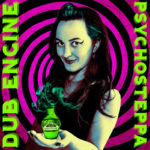 Sometimes the downloads don't work, we hope to fix it quickly, sorry
Le duo italien Dub Engine est de retour avec un tout nouvel opus !
Depuis 2009 le groupe s'est forgé une identité sonore forte grâce à des productions efficaces mêlant dub et bass music agrémentées d'une voix féminine puissante et de synthés perçants. Psychosteppa et ses 7 titres s'inscrivent dans cette lignée et prouvent que Dub Engine est devenu un groupe Dub de référence.