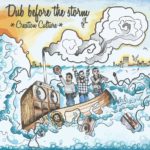 Sometimes the downloads don't work, we hope to fix it quickly, sorry
"Originaire de Bretagne, plus exactement de St Brieuc, Creation Culture c'est avant tout une sono artisanale sur laquelle ils diffusent leur collection de vinyles remontant les productions jamaïcaines des années 70 au Dub Uk les plus récents ! Si à Culture Dub on connait bien Creation Culture c'est grâce à leur complicité avec Sista Bethsabée pour qui le crew a produit plusieurs riddims dont un qui tourne toujours dans le Live du Culture Dub Sound & Sista Bethsabée mais aussi grâce à leur travail de productions et de Dubplates qui leur a permis de travailler avec Murray Man, Charlie P, S'Kaya et George Palmer avec qui Creation Culture nous prépare un album à sortir d'ici quelques mois !
Fort de cette expérience c'est dans leur studio qu'ils composent leurs propres riddims, dont Creation Culture nous livre ici 4 titres originaux suivis de leur Dub ! Le son est influencé par le Dub Jamaïcain mixé avec des sonorités du Dub Steppa ce qui nous donne des titres Roots mais profond, avec des mélodies groovantes qui vous entrainent dans la sérénité, mais aussi la réflexion, qui vous mettent en apesanteur et vous font oublier les contraintes de la réalité ou alors vous en font prendre conscience ! C'est ça le son Creation Culture, du Dub conscious !
Sur 2 titres le souffle du Melodica d'Art-X (Ondubground) vous embarque sur le navire de Creation Culture pour un voyage planant et médidatif ! Les Dub sont mixés à coup de Reverbes et Echos toujours placés avec sérénité, et le duo Basse / Batterie mis en avant ! C'est bon …
Vous aurez même le droit, si vous ne le connaissez pas encore, de découvrir la voix si typique du jeune chanteur George Palmer en introduction de 'Gathround' … On a hâte d'entendre l'album !" Par Culture Dub